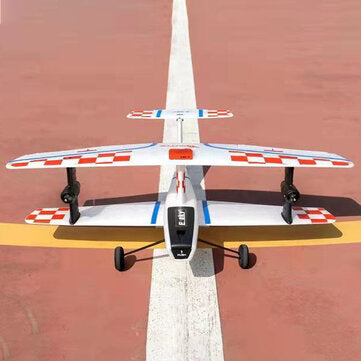 ESKY Sparrow Biplane 610mm Wingspan EPP 2.4GHz 3D 6-Axis Gyro Twin Motor RC Airplane RTF Fixed-wing Aircraft for Beginner Pilots
---
Click here for user manual
Description:

Brand: ESKY
Wingspan: 610mm
Motor: Double coreless motor, with forward and reverse rotation
Battery: 2s 650mah
Landing gear: rear three-point
Endurance: 10 minutes (full throttle) ~ 15 minutes (level flight) (different flight styles have different times)
Configuration: RTF to fly (without AA batteries for remote control)
Weight: 147g (without battery)
Remote control: 2.4GHz, 6 channels, professional bearing assembly (support FXZ)
Flight control: 6-axis self-stabilization, 3-axis stabilization (support FXZ)
Age requirement: 14 years old and above
Body material: EPP
Package weight: 1.75kg
Packing size: 66x58x19CM
Overview
ESKY Sparrow is a great first-time twin motor Biplane for Beginner pilots. It features a unique, all-new design with Curved Wings and All-moving Horizontal Tail that delivers a flight experience unlike other airplanes. The extremely durable EPP construction makes this one of the toughest and lightest mini models yet.
The pair of coreless motors deliver an excellent power to weight ratio for easy-to-control speed, plenty of power to hover and perfect vertical performance. Dual Rates (3/6 DOF gyro) for control makes it easy for Beginner pilots to learn flying the Esky Sparrow. Aided by exclusive 6 DOF FXZ control system that works behind the scenes to smooth out the flight and delivers a self-leveling feel.
100% factory-assembled, the ESKY Sparrow is ready to fly within minutes of opening the box. All you need is four normal AA batteries.
Features:
1. Unique, dual-engine and double-wing design, unique
2. Full-moving 7-style, higher efficiency, not easy to scratch when landing. The all moving horizonal wing directly and efficiently increases the area of the horizontal wing, which makes the pitch control more sensitive and has more lift.
3. It is capable of slow flight, making the flight more calm and the posture more elegant.
4. With the high-efficiency performance of the two wings, coupled with excellent aerodynamic optimization, the ESKY sparrow can maintain its posture naturally and appear stable during flight, making the flight more enjoyable.
5. Concretization scale style structure, injection molding, strong texture and more ornamental. ESKY sparrow uses EPP material, which has good elasticity, strong anti-extrusion and anti-deformation ability
6.Dual front pull motors, using the differential principle to achieve fast turning, flexible and quick steering. The turning radius can be as small as 1.5m! Easily competent for flying in any small place, such as indoor badminton halls, basketball halls, back gardens, backyards, small parks, rooftops and other small venues can fly.
Package Included:
1 x ESKY SPARROW Aircraft
1 x MINI 6X 6-Channel 2.4GHz Transmitter
1 x 2S 7.4V 650mAh 20C Li-Po battery
2 x Main Landing Gear
1 x Screw Driver
1 x Hex Key
1 x Adjustment Tool for Horizontal Tail
1 x User Manual
---
Share this Product