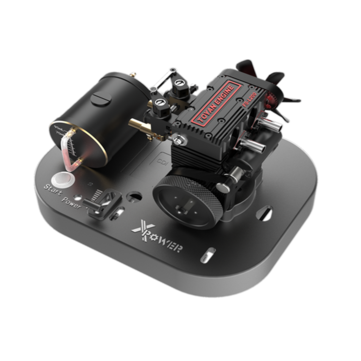 TOYAN FS-L200 RC Engine Two-Cylinder Four-Stroke Nitro with Base Set for 1/10 1/12 1/14 Car Boat Vehicles Model Parts
---
Description:
 Item Brand:Toyan 
 Item Number:FS-L200
Item Name:Methanol engine
 Material:Aluminum alloy and alloy steel
 Color:As the picture shown
 Product Size:
 Engine length x width x height: 100.5x85.4x86.5mm
Cylinder Diameter: 17.0mm
Piston Diameter: 16.6mm
Product Weight:About 1710g
 Packaging Size:26*16*20cm
 Packaging Weight:Approx.2kg
 Compatible With:1/10,1/12 and 1/14 rc cars,rc boat model,rc airplane,also suitable as a decoration, science and education, exhibition, etc.
 Specification:

Displacement: 3.5cc
Output Power: 0.5ps horsepower
Speed: 2500-13500rpm
Fuel Tank Capacity: 90mL
 
 Features:
 Exquisite Workmanship: all-metal body design, the material is made of aluminum alloy and alloy steel, anodizing and coloring process, the surface is delicate and smooth, the engine is small and the horsepower is large, with one button to start, the bracket base can let the engine It remains stable when idling, does not dump and vibrate.
 
Working Principle: using methanol as fuel. The process of moving from one end of the cylinder to the other when the piston reciprocates within the cylinder is called a stroke. The four-stroke engine is divided into an intake stroke, a compression stroke, a power stroke, and an exhaust stroke.

Operation Method:
 the ignition part is connected to the corresponding heat head cap and then connected to the voltage regulator module, and finally connected to the 7.4v T plug-in battery. The fuel part is connected to the fuel tank after the fuel tank is connected to the engine, and the starting part is the 11vT plug battery. After starting the ESC, connect the simulator and the start motor. The start motor is included with it.
Tips:
 This engine do not include the esc,glow plug,CDI igniter,battery and charger,please prepare them by yourself
 Package Included:
 1X FS-L200 Engine
 1X Bracket Base
 1X Fuel Tank


---
Share this Product