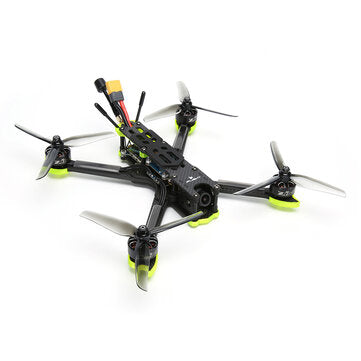 iFlight Nazgul5 V2 Analog 240mm 5 Inch 6S Freestyle FPV Racing Drone BNF/PNP RaceCam R1 Cam BLITZ F7 E45S 45A ESC 2207 1800KV Motor
---


Click here buy Nazgula5 V2 in Grey Tpu Parts Version. 

Note:
Notice: 
New Version Upgrade in BLITZ F7 V1.1 Flight Controller and BLITZ E45S 4in1 ESC. 
New Version
Old Version

BLITZ F7 V1.1 Flight Controller  ( Separate FC Link)

MCU: STM32 F722
Gyro: BMI270
Barometer: DPS310
OSD Chip: AT7456E
Flash: 32MB (Blackbox flash)
UARTS: 6
Motor outputs: 4x (SH1.0 connector)
I2C serial: SDA / SLA pads
Smartaudio / IRC Tramp VTX protocol supported
LED controller: Yes
Beeper pad: Yes
Firmware target: IFRC-IFLIGHT_BLITZ_F722
Mount pattern: 30.5*30.5mm / 4mm PCB hole diameter
Dimensions: 36.5*35 mm
Weight: 7.8g





SucceX-E F7 Flight controller




- MCU: STM32F22RET6 216MHz

- Gyro: MPU6000

- OSD: IFLIGHT OSD (AT7456E)

- BEC: 5V 2.5A

- BlackBox: 16MB

- Uart: 4*UART(UART1、UART2、UART4、UART5)

- 4×Dshot/PWM outputs

- Smartaudio & IRC Tramp VTX protocol supported

- WS2812 led Strip: Yes

- Bepper: Yes

- Firmware: IFLIGHT_SUCCEX_E_F7

- Outer Size: 36*36mm / 30.5*30.5/φ4 mounting

- Weight: 6.9g

BLITZ E45S 4in1 ESC 

( separate ESC Version

 to know more details )

Input oltage: 2-6S

Firmware: QH-40 16.7

Continuous current: 45A

Instantaneous current: 55A

MCU:BB21

Current sensor: yes scale 200

Drive signal support: DShot150/300/600MultiShot.OneShot

Weight: 15g




SucceX-E 45A 2-6S BLHeli_S 4-in-1 ESC

- Dimension: 40*43mm

- Mounting Holes: 30.5*30.5mm/Φ3mm

- Weight: 14.4g

- Supports 2-6S Lipo input

- STM32F051 MCU, 48Mhz Runs BLHELI 16.X Firmware

- Current sensor: YES

- BEC: NO

- Supports: DShot150/300/600/1200/MultiShot/OneShot etc.

- Target: G-H-30 BLS 16.7



Before Caddx Ratel camera changed to RaceCam R1 Mini Cam.
 ( RaceCam R1 is the same as the Caddx Ratel camera, but changed the brand LOGO )
Frame Spare Part , Click Here

PRODUCT DESCRIPTION
Nazgul5 V2 is a 5" size BNF (Bind-and-Fly) quadcopter. it is updated XL5 V5 FPV frames. Pre-tuned and setup, everything you need is just bind-and-fly! Loads of power and smooth flights guaranteed using our popular XING-E motors with long-lasting NSK bearings. Got a hard hit and snapped an arm? Don't worry, get some spares with your order and easy-swap out in field. Wanna strap your for GoPro on that beast as well? Checkout our collection of high quality TPU prints for your cam!
Tips:
VTX is set to 25mW by default! Power levels above 25mW require a HAM license or have to be approved by local authorities! Please ensure you're flying legal frequencies and use our prepared Betaflight VTX tables according to your region.
Specification:
BLITZ F7 & BLITZ E45S 45A flight stack

XING-E 2207 FPV Motor

 (6S 1800KV )

Wheelbase:   240mm*240mm

Body size: 170*170mm

Propeller size: 5 inch /5.1 inch

FC pattern: 30.5*30.5/20*20 mm

FPV cam spacing: 19mm

Weight: 393.4g (without battery)
SucceX Force 5.8g 800mW VTX Adjustable


- Item: SucceX-Force 800mW adjustable VTX

- Input voltage:

- Output voltage/ Max current: 5V 1A

- 12V input current: 40mA@PIT MODE, 95mA@25mW, 185mA@200mW,250mA@500mW, 380mA@800mW

- Output 48 frequency points, 

- PIT/25mW/200mW/400mW/800mW
Feature:
- 5mm arm design for more durability
- Easy-Swap arms
- LED illuminated Logo
- XING-E 2207 motors and NAZGUL 5140 props
- 5" version also fits 5.1" style propellers
- Popular True-X configuration
- TPU crash-guards
- Fits both 30.5x and 20x stacks
Package Included:
1x Nazgul5 V2 240mm 5 Inch 6S FPV Racing Drone

1x 

RaceCam R1

, 2.1mm lens 19x19mm camera
1x Albatross RHCP SMA 5.8g antenna

2sets x Nazgul 5 inch 3-blades (Set of 4 - Color may vary)

1x 20*200mm 

Microfiber PU Leather Battery Strap (Color May Vary)
1x 20*250mm Microfiber PU Leather Battery Strap (Color May Vary)
Additional Suggested Parts (Not Included)
Battery 6S 1300mAh

Camera mount for GoPro
FACTORY SETUP and WIRING DIAGRAM:
This BNF comes pre-built and setup with all necessary parameters to bind-and-fly. We also added a basic filter and PID tuning as well as some more software tweaks enhance the flight experience.
Reflashed your drone but didn't backup the setup? Messed up the whole tune and want our factory tune back?
No need to worry!

All Factory Dumps and Wiring Diagrams

can be found on our Google Drive: LINK
---
Share this Product
---
More from this collection