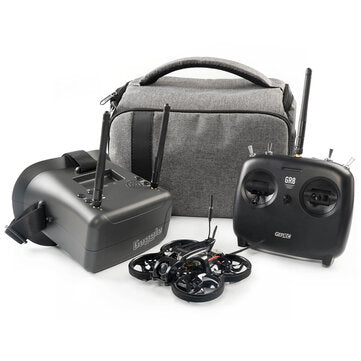 GEPRC TinyGO 1.6inch 2S FPV Indoor Whoop Runcam Nano2 +GR8 Remote Controller+RG1 Goggles RTF Ready To Fly FPV Racing RC Drone
---
Summary:

GEPRC Happy to announce a new member of our family " TinyGO"  Ready To Fly Kit which is suitable for any novice from scratch and Indoor flight. Through a great number of tests, Better technical indexes and Good performance were obtained.TinyGO currently has two versions: the Indoor version and the 4K professional version. 4K can record 4K 60fps video.
TinyGO is RTF Kit for Indoor Flight. The Kit contains a high-definition 800x480px FPV Goggle and the latest GEPRC GR8 Remote Controller. It supports 8 channels and is specially designed for indoor and novices. The remote control has a good feeling of control and It is lightweight and easy to carry. The good point is that you don't need to carry heavy equipment. With our customized GEPRC Fly Bag, it's very convenient to go to the field, travel, and Indoor flight.
TinyGO can use its own charger to charge. The charger uses the Type-C interface. You can use the movable power bank to charge as well. Using conveniently and quickly.
TinyGO can be flight more than 6 minutes (Depending on flight habits). Its stable electronic equipment and extremely strong and tough frame material make the FPV very stable and durable for crash. There is an EVA protection foam around the frame, More elastic and hard to damaged and deformed.
TinyGO is carefully assembled and assembles by GEPRC team, with excellent performance. You can start a whole new journey and enter into FPV World, TinyGO will be the best choice for your first FPV Drone.
This looked like the beginning of a terrific flight Experience Literally
Feature:
TinyGO is very suitable for indoor flight, More than 6 minutes of flight time
Using GEPRC-12A-F4 FC system, reliable and stable
No Propellers in view, Anti-jamming VTX, NO Jello flight Footage, stable flight picture
The Newly Developed GR8 Remote Controller is specially designed for Novice and indoor flight
High-Quality FPV Goggle, High definition 800 * 480px, sensitive 5.8G receiver
Ready To Fly Kit, Including a GEPRC Fashion Fly bag, Portable and Light weight.
There are Two versions: The normal version is suitable for daily practice, The 4K version can Record 4K 60fps Video.
Configuration:
Name: TinyGO
Brand: GEPRC
Frame: GEP-TG16
Motor to Motor: 79mm
FC: GEP-12A-F4
MCU: STM32F411
IMU: MPU6000(SPI)
OSD: BetaFlight OSD w/ AT7456E chip
ESC: BLheli_S 12A
VTX : 5.8G 25~200mW VTX
Camera: Runcam Nano2
Propeller: GEMFAN 1636*4 (4 pairs)
Motors: GR1102 10000Kv
TinyGO Weight: 48 Grams
EPRC GR8 Remote Controller:
GEPRC GR8 Remote Controller
Radio Frequency: 2.4GHz
Radio Protocol: FHSS
Channel: 8
Transmit Power: < 20 dBm
Antenna: In-built dual Antenna
Low Voltage alarm: <4.8v
Batteries: 4 x AA Batteries (Not Included)
Receiver:
Channel: 8
Voltage: 5V
Radio Frequency: 2.4GHz
Radio Protocol: FHSS
Range: 300 meter
GEPRC FPV RG1 Goggle:

Resolution: 800*480px
Size of Screen: 4.3 inch
Whole Size: 155mmx144mmx113mm
In-built batteries: 3.7v/2000mAh
Working Hours: 2.5 Hours
Weight: 314.6 Grams
FPV Batteries:
Batteries Capacity: 530mAh
Voltage: 4.35v 1S1P
Discharge rate: 90C
Size: 61mmx16.7mmx7mm
Weight: 12.7 Grams
Interface: PH2.0
Charger:
Input power: 5v (USB & Type C)
Full charged Voltage: 4.35v
Output current: 500mAh
Charging: It can charge 4 PCS 1s HV lipo 4.35v HP2.0 plug batteries at the same time
Package Included:
1x TinyGO TinyWhoop
1x GEPRC GR8 Transmitter
1x GEPRC FPV RG1 Goggle
4x GEPRC LiHV 4.35v 80C Battery
1x Battery Strap
4x Gemfan 1636*4 Props(pairs)
1x GEPRC Fly bag
1x Screwdriver
---
Share this Product
---
More from this collection