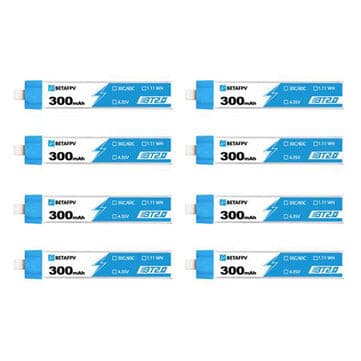 8PCS BETAFPV 4.35V 300mAh 1S 30C BT2.0 LiPo Battery for BETAFPV Cetus Meteor65 Brushless Whoop Quadcopter
---
Bullet Point:
BT2.0 connector decreased internal resistance of connector effectively by upgrading the crimped pins to 1.0mm banana connector and increasing the cross-sectional area of 1.0mm banana connector.
BT2.0 300mAh 1S 30C Battery supports 9A continuous current and 15A burst, while the PH2.0 connector supports 4.5A continuous current. With this BT2.0 300mAh 1S battery, all 1S brushless drones will gain powerful and perfect performance.
By solving the problem of voltage sag, the discharge of the 300mAh 1S BT2.0 lipo becomes more efficient. Pilots can enjoy more flight time without disturbance of low voltage warning. 
Compared with the PH2.0 crimped pins, BT2.0 connector is more durable which can discharge more currents in the same capacity and provide far more power. You can get 2mins flight time in full throttle on Meteor65.
The package comes with BT2.0-PH2.0 adapter cable in the package, which is convenient to charge BT2.0 battery with stock PH2.0 charger. Meanwhile, we also release BT2.0 all-in-one battery Tester & charger for your need.
SPECIFICATIONS:
Dimension: 67.3*11.8*6.1mm
Connector: Betafpv BT2.0 connector 
Packaging included:
8X BETAFPV  1S 300mAh Battery
---
Share this Product